Amsterdam, 18 October 2022 – TPEX International  Partner: EDGE
An entity on its own – EDGE Olympic seems to be achieving new heights. The building that was delivered in 2018 has reached Paris Proof standards according to the Dutch Green Building Council. Let's dive into it.
First, what can we tell you about the embodied carbon of the project
Taking it back to the beginning, the stunning retrofit project arose with the aim of building better and minimizing the environmental impact the office building. Of course all of this by still incorporating highly sustainable practices – reusing existing materials, introducing circular products and implementing sustainable and VOC-free materials. EDGE Olympic is largely circular and developed with respect for our living environment – instead of being entirely demolished, the basic structure was kept and redeveloped since it still served its purpose. As a result, the materials in the old building that could not be used anymore in the same way were given a new life. The old natural stone, for instance now serves as flooring on the ground floor. On the other hand, all of the new materials have a natural base. The top two floors, for example, have a wooden construction that can be disassembled relatively easily for future reuse. This part of the building is cradle-to-cradle certified.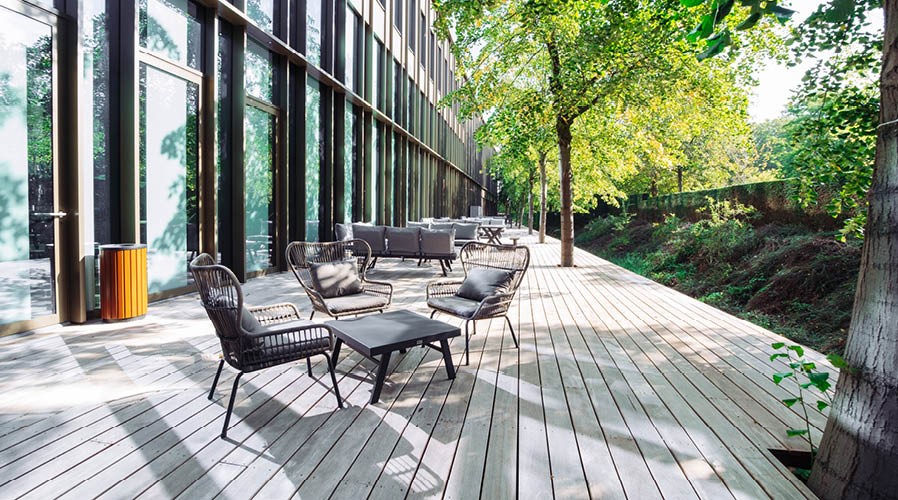 Reaching Paris Proof
To achieve Paris Proof on an operational level, the smart tech integrated in the building is what enables us to reach the next level. The IOT system continuously measures, registers and analyses how the building is being used – and then our Technical Property Manager can easily anticipate changing circumstances. User comfort is always the point of departure and individual workspaces can be customized. All information collected on the use of the building is used for future changes to and the evolution of the structure. If, for example, it becomes clear that users spend less time in certain areas, these areas can be adapted to new personal preferences. The flexible technology underlying EDGE Olympic facilitates continuous development and, consequently, guarantees user comfort and well-being. And not at the cost of your energy bills!
The key player in this whole equation is our Technical Property Manager, Robert Rosier. For the past three years, he has worked on adjusting all settings of the building, looking at the user behaviour, peak hours versus the building not in use, all statistics coming from our IOT platform EDGE Next. Today, we have saved up 34% on energy costs and 25% on maintenance costs. Total energy usage dropped from 1.175.420 (= 100 kWh / M2) in 2019 to 787.306 (= 68 kWh / M2) in 2021.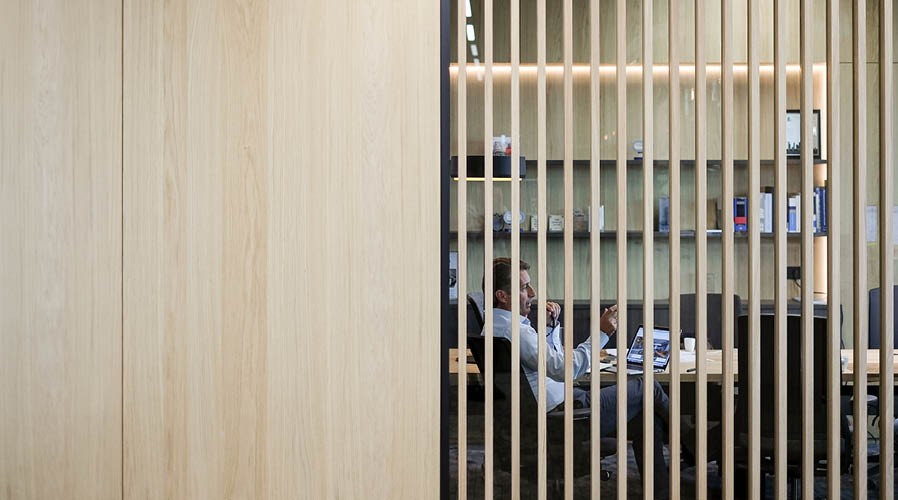 EDGE Olympic reaching Paris Proof is the result of a great collaboration between EDGE Workspaces and TPEX International, bringing another better building to the world, not only to us and also to the environment at a lower maintenance and energy cost. To that, Coen van Oostrom, our Founder and CEO adds: 
For the past three years, EDGE Workspaces in cooperation with TPex International have monitored and adjusted EDGE Olympic's settings based on day-to-day energy usage to save 34% in energy costs and 25% in maintenance costs. Today the building's operations have reached the official Paris Proof standards. With the current energy crisis, we are proud to offer such a sustainable solution to the market. Sharing the great results achieved at EDGE Olympic also confirms EDGE's effort to keep on delivering the best performing buildings to our clients.
This comes at a crucial time in history when those numbers do matter and healthy and sustainable real estate seems to be more relevant than ever. With the weight of a post-pandemic environment, geo-economic and environmental crisis on our shoulders we ought to do better. Healthier construction seems to provide short and long answers for this. We cannot strass enough how much the world needs better buildings. Achieving Paris Proof for EDGE Olympic is one step proving exactly that.
About TPEX International
TPEX is a Smart Building Operator that actively provides 24/7 management and remote monitoring of all measurement and control functions in a building, including video observation, access detection, etc. Since 2010, TPEX has been introducing the most modern technology in buildings, to provide its users with the best experience. TPEX collects all data from a building for the purpose of monitoring and managing these data, in order to improve performances based on the objectives of the building and to optimize the operation, also for the proprietors and investors. We refer to this as Data Driven Real Estate. 
For more information, please refer to www.tpex.com or follow us on LinkedIn.